Transformer manufacturers help meet the power needs of many applications for a broad industry range. Choosing a reliable manufacturer can ensure your transformers adhere to design specifications, deliver to you on time and provide long life spans. The most reputable transformer manufacturers stand above the competition by offering some of the industry's most comprehensive product warranties.
How Long Are Warranties on Dry Type Transformers?
While most manufacturers of medium-voltage dry type transformers offer a standard warranty length of around one year, ELSCO Transformers goes above and beyond those offerings. Depending on whether the unit is new or remanufactured, ELSCO dry type transformers carry warranties of up to five years when installed indoors in a clean and dry environment.
Our new dry type transformers feature a five-year warranty length that protects against any manufacturing defects or material issues during regular use. Users must properly install the unit to ensure sufficient airflow to meet warranty conditions. If you add thermocouples for measuring temperature, they must be at least 6 inches from the bus bar and any high-voltage coils.
Our remanufactured units carry a three-year warranty. The conditions for remanufactured transformers are the same as our new models. Users must correctly install the model and locate the thermocouple leads far enough away from any high-voltage components.
Why Don't All Dry Type Transformer Manufacturers Offer 5-Year Warranties?
ELSCO Transformers has earned a reputation as one of the industry's most reliable manufacturers of the highest quality products. We can offer more extensive warranties than competitors because of our expert designs, premium components and superior quality. Our products stand out from the competition's offerings with parts like SG200 and Dupont Nomex insulation and 100% copper windings.
Our installed dry type transformers have produced zero warranty issues or product failures since we began building them in 1988. We have provided top-class solutions for various applications across an extensive industry range for decades, including manufacturing plants, health care facilities, general contractors, educational institutions, government agencies and more. While a typical dry type transformer often lasts 15 to 20 years, our units usually provide reliable life spans past 30 years.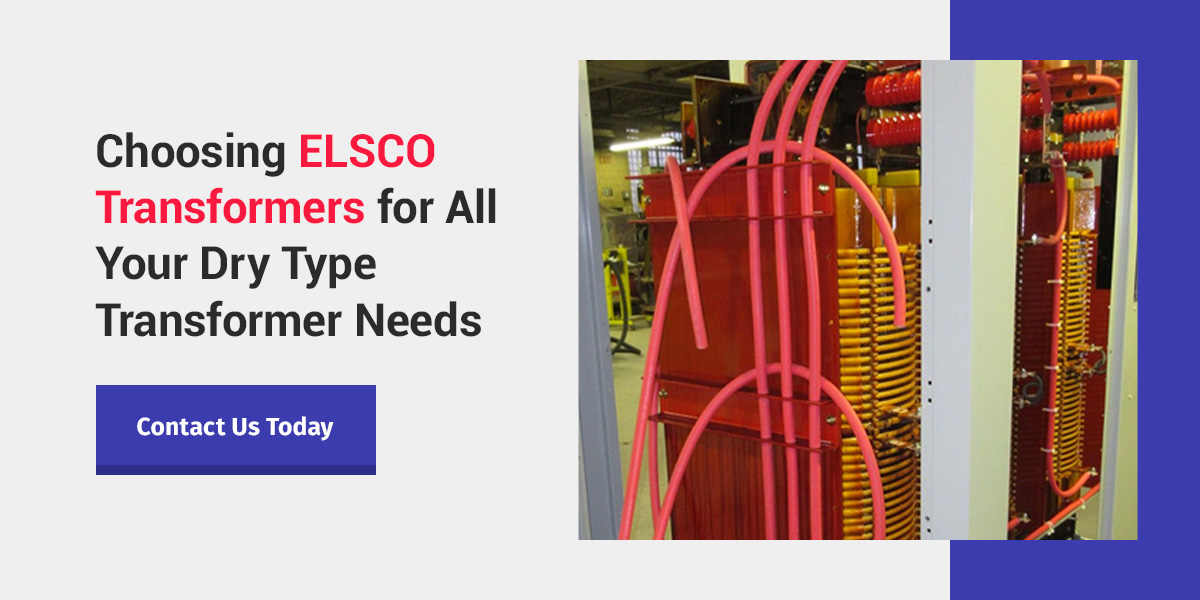 Choosing ELSCO Transformers for All Your Dry Type Transformer Needs
If you're searching for a company that can handle all your medium-voltage transformer requirements, ELSCO Transformers is a perfect choice. We've supplied the industry's highest-quality transformers for decades, including dry type and padmount transformers. In addition, we provide a comprehensive range of services, from customized builds and retrofitting to custom bus work and emergency replacements.
Contact us today to request a quote or obtain additional information.