Supply chain challenges have resulted in widespread disruptions since mission-critical processes rely on delayed materials sourcing and manufacturing procedures. Padmount transformers are among these critical systems that often face long lead times for new units. When your existing system stops functioning, these lead times can set your operation back.
Understanding lead times for 2023 can help you think ahead for your transformer needs. Learn what you need to know about supply chain issues and how you can address transformer requirements moving forward.
How Long Does It Take to Get a Padmount Transformer?
Transformer manufacturing involves material sourcing, production time and shipping, and these steps result in lead times as long as 60 to 70 weeks in current supply chain conditions. The supply chain outlook for 2023 shows no signs of significant improvement from these last couple of years, so you can expect long lead times to remain for the foreseeable future.
Material sourcing can pose the biggest challenge for padmount transformer manufacturing. Obtaining high-quality core steel, aluminum or copper wire and oil for manufacturing is critical but often takes weeks or even months. Given the projected lead times for new padmount transformers, emergency replacement of your existing unit may be challenging.
ELSCO Transformers Solves Lead Time Challenges
ELSCO Transformers helps operations navigate supply chain challenges with our retrofitting services. We can take an in-stock padmount and modify the low voltage bushing heights with copper drop down bus to hit lower connections points based on your measurements.
Modifying our stock units enables us to shorten lead times. The unit is already constructed based on standard measurements and with our source materials. Once our experienced technicians have the information they need about your setup, they can send you a padmount transformer that easily installs.
When we retrofit a stock transformer, we can get your unit on the road in as little as 24 to 48 hours. For unexpected replacement needs, the retrofitting option helps you overcome long lead times and the downtime that comes with them.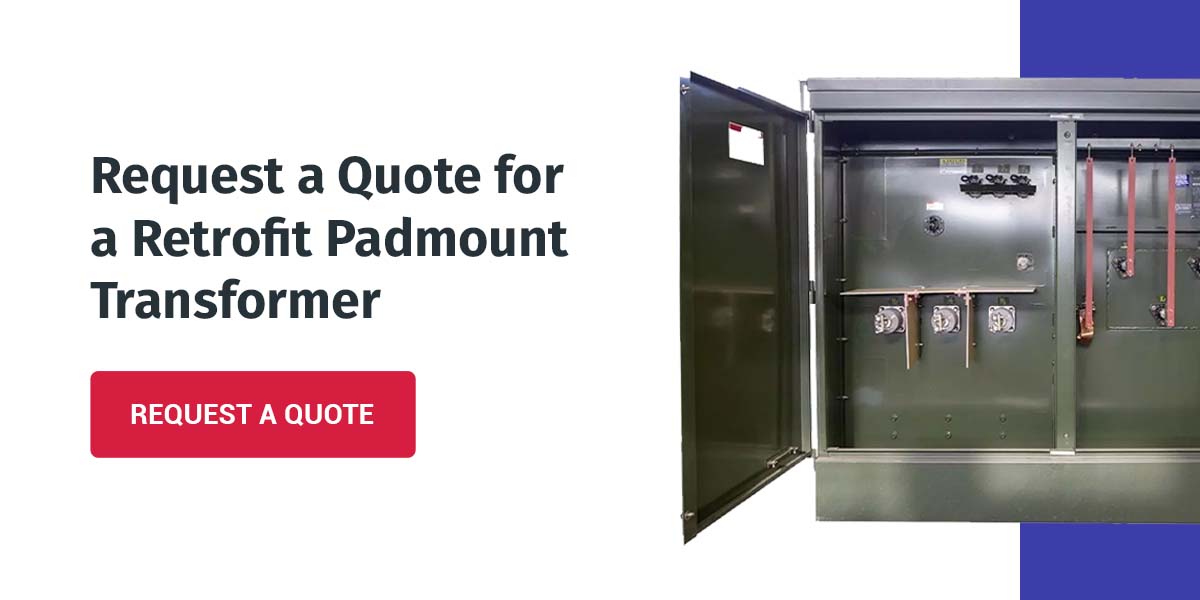 Request a Quote for a Retrofit Padmount Transformer
At ELSCO Transformers, we understand that functional transformers are critical to operations across the country. Rather than facing downtime due to extended lead times, turn to our experienced team for retrofitting of our stock units. Request a quote today for more information.