Padmount Transformers from ELSCO Transformers
ELSCO stocks padmount transformers with ratings from 500 KVA to 2,500 KVA, with 4160, 12470, 13200 and 13800-volt primary voltages.
We are committed to supplying new in-stock and build-to-order options for all our customers with high-quality padmount transformers that will provide efficient uninterrupted power for decades to come.
Our padmount transformers provide dependable and cost-effective power output for almost every application.
Fill out this contact form, and discover what Elsco Transformers has to offer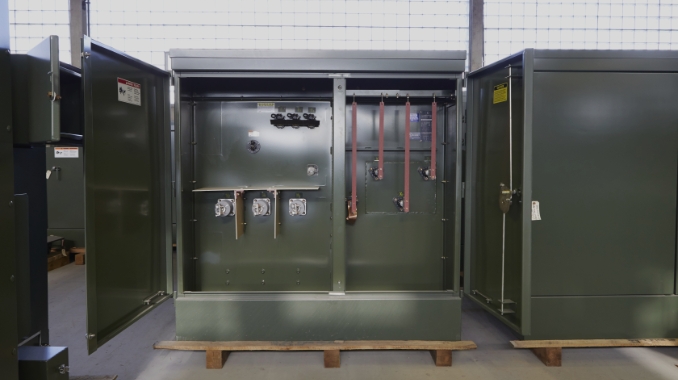 How Our Padmount Transformers Are Built
We Select the Right Transformer for the Job
We Use the Best Materials
We Customize Transformers to Meet Your Requirements
We Test Our Transformers
We Ship Your Transformer to You for Installation
Call Us Today
Padmount Systems Accessories
ELSCO padmount systems can come outfitted with many accessories, such as;
Temperature and liquid level gauges.
A pressure vacuum gauge with Schrader valve.
A pressure relief device and/or pressure relief valve.
A two-position on/off load-break switch.
Bayonet current sensing fuses.
Distribution class lightning arresters.
An external drain valve and sampler that allow easy access for DGA tests. In most of our stocked units the standard drain valve and sampler are inside the low voltage compartment.
Call Us Today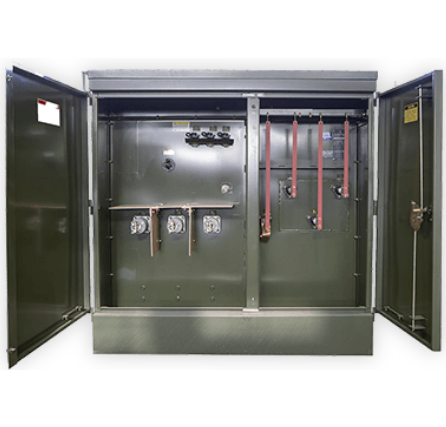 Benefits of a Padmount Transformer
Under-Ground Service
Padmount transformers are great when under-ground service is required. You will often see them behind malls, restaurants or in industrial parks.
Cost-Efficient Solution
Our transformers offer a cost-efficient solution for your energy needs. ELSCO's inventory of new transformers exceeds all national energy efficiency standards — including NEMA, ANSI and IEEE — plus the recommended ENERGY STAR and Department of Energy (DOE) ratings, so you can deliver more power at a lower cost.
Build-to-Order
We can also build a padmount unit to spec. Whether you need one unit or 100 units, you can benefit from a customized fit for any application, from hospitals, universities and office buildings to retail locations and manufacturing plants.
High-Quality Materials
ELSCO uses the highest quality materials and engineering expertise to provide the right unit for your energy needs. If you need a transformer with unique specifications or features, we can work with you to modify a stock unit or fabricate a new system to order.
Request a Free Quote on New Padmount Transformers!
If you are looking for a new padmount transformer that will last for years to come, then contact us for a free quote!
Request Free Quote
If you know your specifications, you can request a quote.
For more information about our products talk with one of our transformer engineers